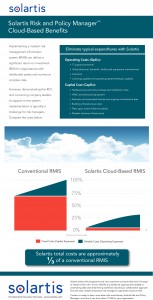 Demonstrating the ROI of a Risk Management Information System (RMIS) is typically a challenge for Risk Managers due to high fixed costs.
However, cloud-based technologies are disrupting the RMIS market by offering significantly lower upfront costs and capital expenses.
Download our infographic to see how Solartis Risk and Policy Manager eliminates 2/3 of the cost of a conventional RMIS.