The best of both packaged and configurable / custom designed product:
Packaged:
Leverage our cloud-based policy lifecycle services.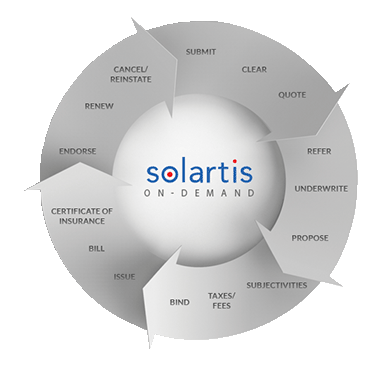 Configurable Custom Designed:
Create the business flow and screens on top of these services for all of your insurance programs.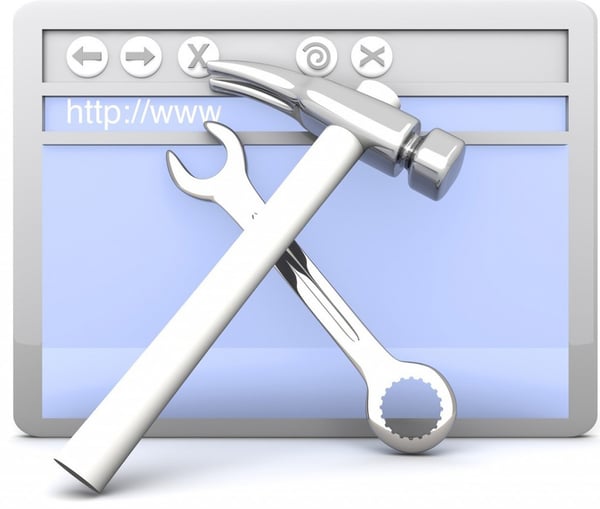 True On-Demand Policy Life Cycle Processing
Solartis Insure runs on the Solartis Platform which is a collection of configurable business services implemented on a service-oriented architecture (SOA) model. It is designed specifically for the insurance industry. All insurance services can be accessed through the Solartis User Interface (UI) or can be invoked through backend web services. These services are deployed on our On-Demand Cloud Platform which is Elastic and supports multi-tenancy within and across your organization and business units.
Cloud Services – Support the entire policy life cycle or just the components you need
Flexible distributed processing options (e.g., insured, broker, carrier). The right approach for each insurance program
Elastic – Scales to your needs to support user and policy peaks and valleys
Deployment – Private, Hybrid, Public Cloud options
High Availability (HA) –near real-time replication and Disaster Recovery (DR) data centers
Solartis Insure - Amazing Technology
Implemented on Java Enterprise Edition (EE) 6
Enabled with Web Services everywhere
A ground up implementation on a distributed, clustered Cloud-based Platform which is elastic and supports multi-tenancy
Insurance products running on Solartis Platform are "configured" on our meta database & our "knowledge bases" rather than "customized"
Supports heterogeneous integration with any system developed & deployed on heterogeneous platforms and runs on any environment & network
Supports internationalization with multi-language & multi-currency
Solartis technology evolves constantly with the latest proven technologies
Solartis User Interface is flexible & template driven for your user interface needs
The Solartis Insure user interface is separated from business services. Because of this, user interface changes don't affect backend services.
Knowledge Base Driven
The Solartis Platform has various Knowledge bases which runs on an industry strength rules engine and supports quick configuration changes.
Runs "in-memory" which provides excellent performance and is highly scalable
Consists of Rules, Rule Flows, Decision tables, Constrains, Complex Event Processing (CEP), etc…
Your product Rate Tables are in defined in Decision Tables which is in a MS Excel file format and is loaded into the in-memory Knowledge Base
Business rules and algorithms are configured in business friendly Rule Flows and are partitioned horizontally and vertically for scalability
Architecture Highlights
The Solartis Platform has various configurable workflows for Submission, Quote, Policy, Endorsement, COI, etc…
Each workflow task can be performed by different user groups
Workflows are configured at the Insurance product level
Each workflow is configured to the specific needs of each business unit and product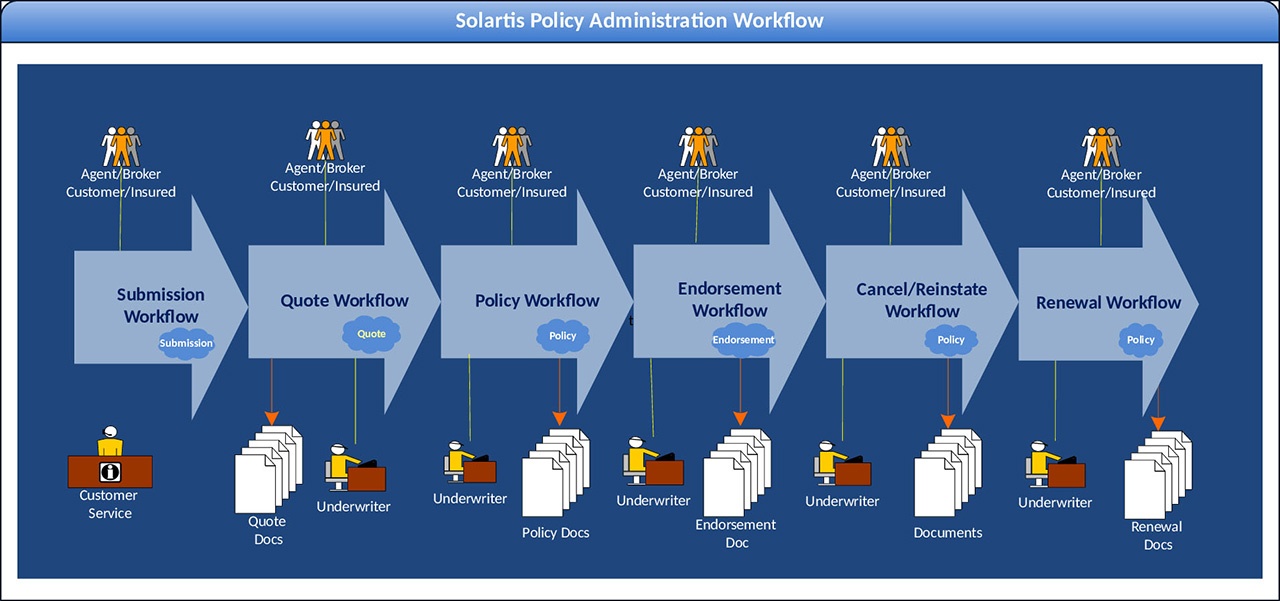 Configurable Insurance Products
Insurance Products can be configured individually or grouped.
Solartis Insure requires only your product's specific rates, forms, rules.
If desired, Solartis Insure supports product comparisons (or shopper functionality) to compare rates, coverage and forms
Configurable Rating, Rules, Forms
Knowledge Base (KB) Driven
Rates, Rules and Forms are configured in your own product specific knowledge base
Are configured in business understandable rule-flow and decision tablesRule flow examples: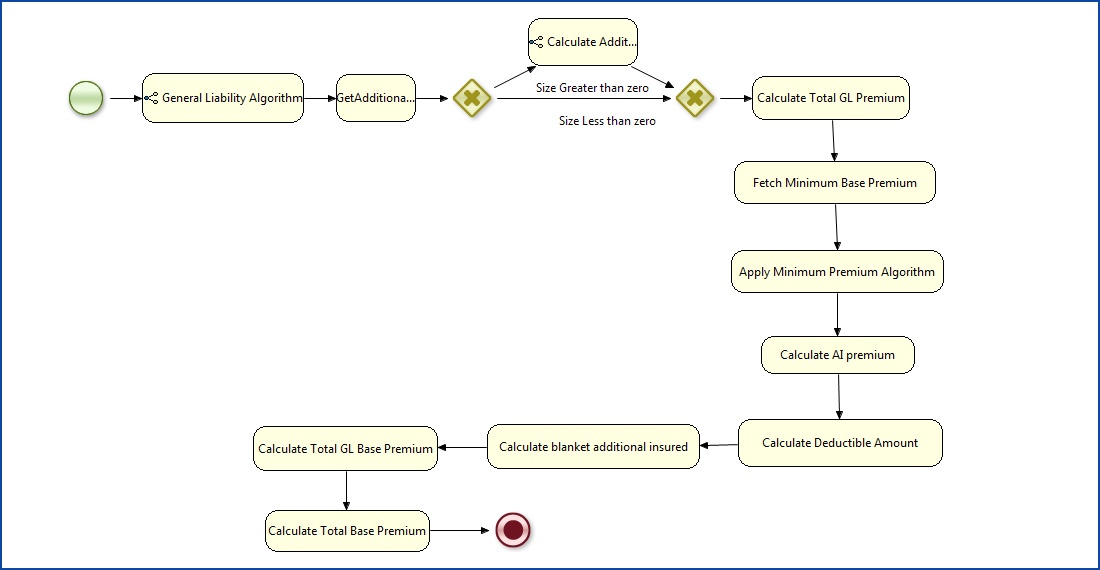 Our Decision tables are configured in MS Excel files and deployed on the Knowledge base
Decision Table example: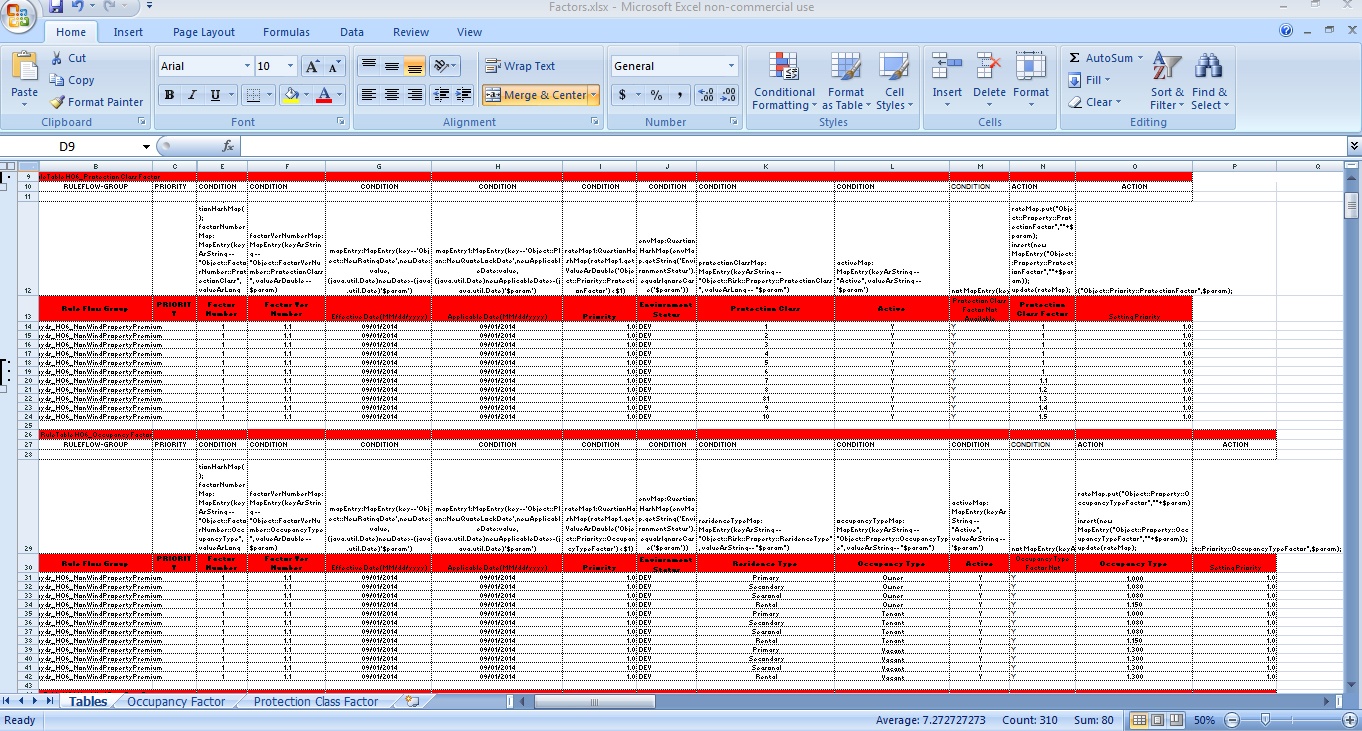 Customizable User Interface
Template driven layouts and style guides
Configured and rendered through the Solartis Questioning Engine
Your product specific questions, attributes, values and rules are configured in the Solartis Platform meta database in the Question Engine
The Solartis Platform supports any type of user access (e.g., Insured, Brokers/Agents, Underwriters, CSRs, etc…)
Information rendered is based on the entitlement and privilege associated with each user type.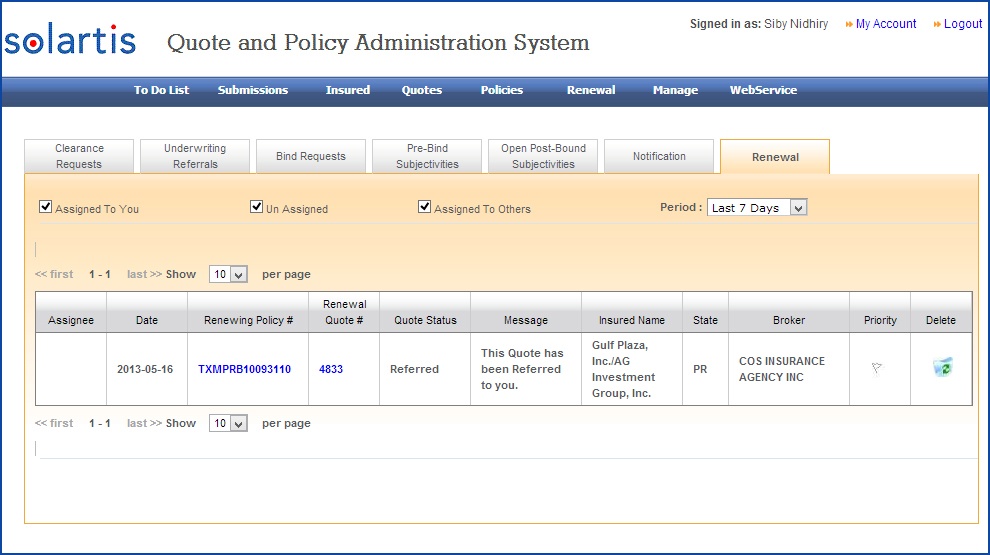 Product Versioning
Your Products, Rates, Forms, Rules are versioned for honoring previously quoted and issued transactions
New versions of the products can be deployed ahead of time and released to use later
Transaction Data is versioned for audit purposes. All Quote, Policy, Endorsements data is versioned and maintained
Web Services Everywhere
All Business services in the Solartis Platform are implemented as externally invoke-able web services. This includes Business Services such as Rate, Quote, Bind, Issue etc.
The Solartis Platform is implemented in a multi-tier architecture model
The User Interface (UI) is separated from the business services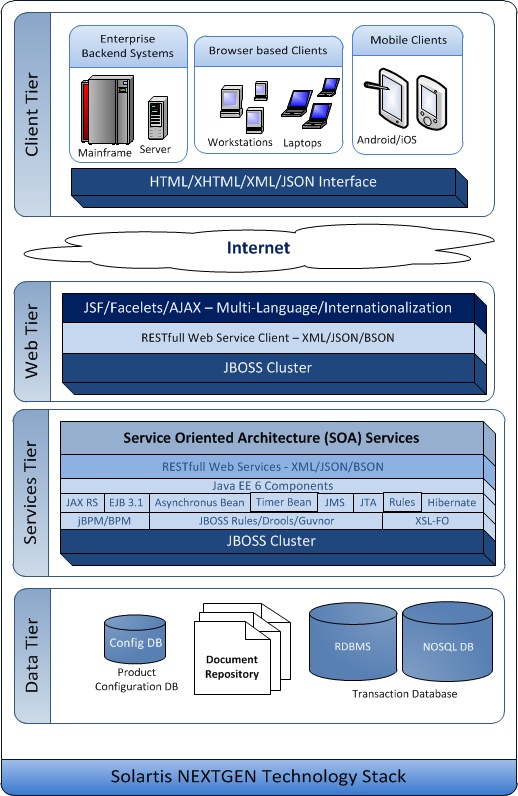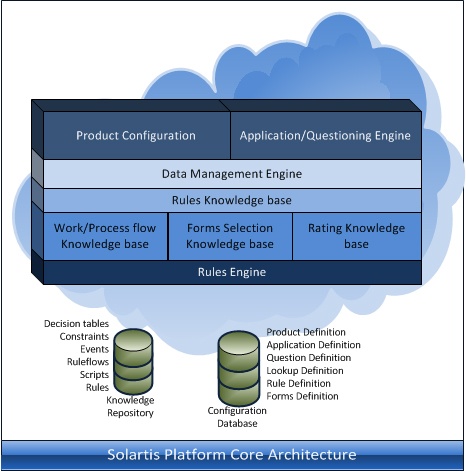 The Solartis Insure Cloud:
Supports multiple cloud deployment options:

Hybrid Cloud – generic services are multi-tenant, but your configuration, transaction database and knowledge bases are single tenant
Private Cloud – all services and data will be deployed on your own infrastructure
Public Cloud – these are for services where your data is not required to be maintained by Solartis. (e.g., Surplus lines Taxes & Fees, state regulatory compliance reporting)

High Availability (HA)

Solartis Insure is deployed on a distributed and clustered environment which supports high availability and better performance
The Solartis Cloud runs on multiple data centers. Your data is replicated instantaneously within the data center and across data centers

Includes a customer specific reporting database

Solartis provides a "separate view" reporting database for all your reporting needs
Reports run on this environment and does not affect users accessing the production system
Used for offline transaction queries, back office interfaces, Offline Integrations

Production Monitoring & Transaction Support

The Solartis production monitoring team constantly monitors our network, servers, transactions, user activities to insure the best performance and elastic behavior
All transactions are monitoring to catch any system exception to insure the best user experience
Our production monitoring team provides daily transaction reports