Predictive Analytics & AI
Insurance companies can collect data from a wide range of sources that were previously unavailable, including IoT and wearables, smart phones, smart homes, and other devices - even online data and social media information can be used for data analytics. This generates valuable insights that are then used to optimize products, services, and brand.
"In addition to reengineering core processes, leading carriers and ecosystem players will use the advent of AI to create products and services based on data and analytics." (1)
Using data analytics to provide accurate forecasting is set to change insurance as well, by using the data gathered from a variety of sources for 'what-if" modeling. Insurers can apply future changes across their entire book of business, and measure the effects of different scenarios to improve decision-making.
Predictive analytics can be used by insurance businesses to:
Improve pricing

Manage risk

Anticipate trends

Improve upselling efforts

Strengthen brand relationships
---
Robotic Process Automation (RPA)
Insurance Robotic process automation is the use of low-code, small scripts of code (also known as 'bots') that perform simple, repetitive tasks. The value of RPA is that it frees up human workers for higher-level, complex or strategic tasks. In fact, McKinsey estimates that RPA implementation provides 200% ROI within the first year. Another recent study found that successful RPA implementation can help insurance businesses free up 20-30% of capacity. At the same time, RPA significantly reduces human error, which improves the customer experience and reduces organizational risk.
In insurance, RPA can help businesses collect customer information, and auto-fill forms, provide automated follow-up alerts, and flag mismatches or data errors.
Insurance companies rely on a mix of legacy applications and systems. RPA can help link these disparate systems — with minimal coding — so insurers can conduct operations faster, reduce labor costs and explore new areas of business innovation. In fact, Gartner predicts that by 2025, 70% of new applications written by enterprises will use low-code or no-code technologies. [2]
---
Microservices
Many insurance businesses are bound by the limitations of large-scale, monolithic legacy applications. These are expensive and challenging to maintain, and nearly impossible to integrate with new technologies and applications. The future of insurance is not in building solutions on top of legacy apps, but instead, breaking them down into unbundled, disparate microservices.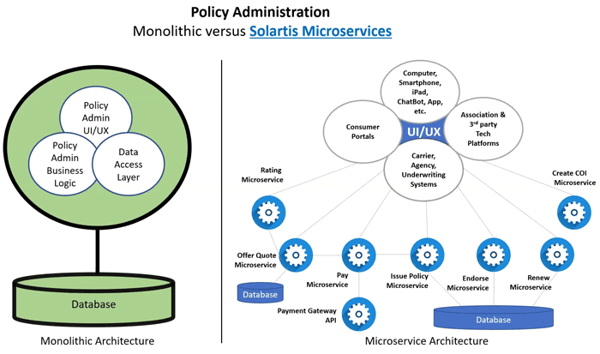 [2]
Insurance technology that utilizes microservices helps established companies and insurtechs to:
Use only the services you need to build high-performing products.





Create unique ecosystems by incorporating third-party and/or partner-provided microservices with your proprietary services.





Launch innovative insurance products rapidly.





Enable unrestricted methods to sell insurance products and insurance services: B2C, B2B, Chatbot, channel partner and third-party technology platforms
---
Use of a Fully Configurable Platform
In the highly-regulated insurance industry, one size does not fit all. Ever-changing regulations, integrating services and technologies and managing all the ongoing insurance product changes make technology investments very risky. Technology that requires customization is problematic, costly, and time-consuming. There is a better way to manage your insurance products - by using a fully-configurable platform.
A fully-configurable insurance platform allows you to rapidly configure all your insurance products and easily maintain them as they change over time. This is all done in a straightforward, non-disruptive environment that is can be mostly be supported by non-technical resources.
Here are just a few examples of what a fully-configurable policy administration platform can do for you.
Create insurance products (from scratch or from an existing product),

Create and maintain the product structure and its attributes,

Manage the states or jurisdictions that you write in

Manage your insurance product plans and coverages

Manage rate tables, look up (valid value tables), UI/UX pages and attributes,

Manage all policy documents and their associated forms

Author and maintain proprietary forms

Orchestration of the needed microservices

Configure and manage all processing and underwriting rules

Configure and manage coverage and premium calculations

Test insurance products on the microservice and system level

Promote your product from DEV to TEST to LIVE in a single environment
The Solartis Insure fully-configurable microservice platform frees users from the constraints associated with legacy insurance policy administration software systems. It is a full suite of 100+ policy life cycle microservices that allows companies to replace expensive components while providing a unique, elevated customer experience.