Insurance policy administration systems have dramatically evolved in recent years to incorporate more dynamic and flexible solutions. Modern technologies have revolutionized the user experience, as well as provided reduced efforts to on-board and maintain new and innovative insurance product offerings in carrier platforms. These improvements have changed the way insurance is bought and sold.
For example:
Custom user experience (UI)
Faster on-board times
Unprecedented transaction speed and performance
Select just the policy administration services that you need
Integrate the needed microservices with your existing technology platform
Extend product offerings to channel partner platforms
Cloud-Based Policy Administration Systems
Insurance policy administration systems are rapidly migrating to cloud-based environments. Cloud computing has several benefits, especially when it comes to insurance policy administration
More flexibility: Efficient implementation of new applications
Save money and time: Reduced IT and operational costs
Elastic and scalable: Developer friendly
Improved redundancy and disaster recovery services
Insurance Microservices
As cloud computing continues to grow, the shift to microservices is becoming more pronounced. How do microservices actually contribute to a modern policy administration system?
Insurers will gain several benefits through the use of microservices. Cost and time savings are paramount to efficiency, and microservices will enable insurers to adapt, update, and focus on individual components and capabilities versus having to update their entire system.
Microservice architecture is a development strategy that utilizes a series of independently deployable, modular applications that constitute a full-scale enterprise application. Microservices bring agility, scalability, and reliability to insurance policy administration systems.
Microservice components can be used to implement different APIs that typically have one job, or a small set of jobs, that function as individual building blocks. In addition, microservices require less maintenance, focusing on individual components, as opposed to the all-inclusive approach of monolithic applications. Developers will be able to focus their efforts on delivering targeted applications that solve business problems, rather than working within an outdated architecture.
Microservices offer a range of policy administration functionality including:
Submission and Quote Life Cycle APIs
Policy Life Cycle APIs
Document Generation APIs
Billing Life Cycle APIs
Discrete Services APIs
---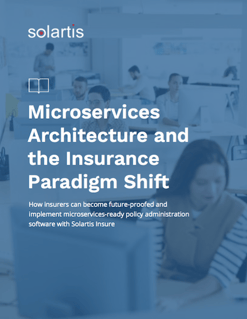 Download your microservices architecture eBook (pictured on the left) to learn how to future-proof your insurance organizations' software.
Another area of inefficiency in insurance policy administration is with ISO circular updates and analysis. With the use of microservice architecture and innovative vendors, carriers have eliminated this problem. Carriers can immediately adopt new changes using ISO updates, which are available within 24 hours of the newest ISO ERC version releases.
According to Verisk, automating the circular process using ISO ERC results in approximately a 58% decrease in work time for IT modifications and 35% decrease in overall cost, giving carriers the freedom to add value in more meaningful ways to help the organization grow.
Third-Party Integrations
One of the greatest advantages of a cloud-based microservice architecture for an insurance policy administration system is the seamless integration and use of common third-party content and service providers.
For examples of third-party content and services that work effectively in policy administration, reference Solartis Insure's Third Party Service Integrations Catalog. Popular integrations include:
ISO ERC
RiskMeter
Google Maps
Zillow
Chase PaymentTech
Policy Administration Systems
A cloud-based insurance policy administration system coupled with microservice architecture mitigates the need for a complete system overhaul. Carriers can continue to leverage their existing policy administration system by just replacing costly and time-consuming components like rating and document production. They can also extend these same components (APIs) to their channel partner platforms.
The implementation of Solartis Insure will provide your organization the flexibility, scalability, and reliability needed to run an effective policy administration system that meets customers' needs, reduces costs, and increases revenue and profits.
Request a demo of Solartis Insure to see effective insurance policy administration software in action. Learn more about why microservices are the right choice for you.